The 3 different ways to go to the holy Mt. Kailash: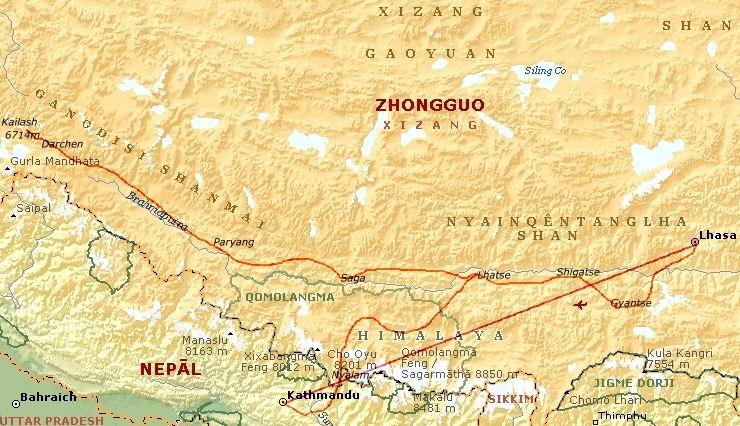 1. The southern route from Kathmandu via Kodari:
The route via Kodari has become my favorite one over the years. With 3 full days of acclimatization in Nyalam (3,700m) you will ensure good adaptation to the altitude. According to medical opinion, acclimatization is considered sufficient only after 4 days and 3 nights. Unfortunately many tour operators don't care about this and do not allow sufficient time. As a result their clients suffer and sometimes even develop severe altitude sickness which can lead to death.
In the period of time we spend in Nyalam you can give body and mind time to slowly adapt. Meanwhile you can go for some interesting short treks to nearby holy sites. Many of the places to visit are connected with Mt. Kailash and you can slowly tune into the proximity and energy of the holy mountain while letting go of thoughts of home.
The trekking days are planned so that every day we walk a little bit more and higher as a preparation for the kora. All this takes place in the midst of the Himalayas near the 8049 m high Shismapangma surrounded by 6-7000 m high mountains with beautiful glaciers.
[3:52:31 PM] Natalia Potylitsyna: The focus of this trip is to get in touch with nature and also with the silence in the mountains, especially Kailash. This is the cheapest route since we don't have the expensive flight up to Lhasa. However if you want to go to Lhasa you can easily add this at the end of the trip.
2. From Lhasa to Mt. Kailash
This journey is a very balanced way to go to the holy mountain and provides a thorough impression of the major cities and most interesting sights of Central Tibet.  It is actually a good deal since you have two trips in one (overland KTM – Lhasa and to Mt. Kailash by the southern route) Travelling in this way gives you the best physical preparation in terms of altitude.  Up to now none of my participants have had trouble doing the trip.  This is mostly because you have already been in the country for 10 days by the time you start to trek.
The Kora / trek itself doesn't have more than 350m altitude difference from one sleeping place to the next, and in this way there is almost no risk at all of getting altitude sickness.
Since 2014 one can only go through government agency's consequently I have stopped doing this route also far to many problems with the inland flight that resulted in delay of up to 7 days!
Simikot, the ancient pilgrim route.
To reach Simikot a minimum of one flight is needed. You will land in Simikot at 2,800 meters by propeller plane. After that the six-day trek takes you along the Karnali river, all the way up to the Tibetan border. For this trek, a good condition and endurance are a must!
This border region is restricted and requires a special permit from the kingdom of Nepal (US$ 90) and furthermore state taxes (US$ 100) and many other small fees. Therefore the price for this route is quite high.
The specialty on this route is that one walks from one country into another and the vegetation slowly changes along the way from lush green to high desert. Along the trek one has to chance to see simple Nepalese farming life in the mountains. On the route one meets many colorful trading caravans. Accompanied by goats, yaks, mules and horses they bring goods from Tibet into the Nepalese highlands.
Important on this trip is that one has enough time to acclimatize. A minimum of three days when entering the Tibetan plateau is needed otherwise there is a high risk of altitude sickness. This trek is especially for those who are physically fit and enjoy walking and mountainous terrain. Personally I regard this trek as physically very demanding, there are many changes from warm to cold, and high and low altitude.
You will be accompanied by Nepalese sherpa guides (on both the budget and special tour level) who have profound knowledge of the area and the people living there. Due to the altitude of the airport the plane cannot land during bad weather. Therefore you have a risk a delay of up to 5 days according to the weather conditions prevalent during the trek. As a result, one should allow for sufficient buffer days.
The most secure travel season is from mid May until the beginning of July and then from mid September until mid October. At any other time one has to reckon with heavy rain or snow.